The Duran Duran RPG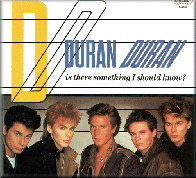 Courtesy of OneList
Welcome to the Duran Duran Role Playing Game!


The Duran Duran Role Playing Game, Played via E-Mail through OneList is an Ongoing Duran Duran Soap Opera constantly in the making. It has Action, Adveture, Suspense, Thrills, Chills, And.. Romance!

Currently, the following roles are covered:

John Taylor God of Bass Guitar Players, one of the 2 Founding members of Duran Duran, and romantically interested in Duran Duran's new Graphic Artist, Jenica Stevens.

Nick Rhodes Keyboardist Extraordinaire, the other Founding Member of Duran Duran, and the Creating Force behind the the Duran Duran Website
Simon LeBon Lead Singer of Duran Duran, toppler of stage equipment with his Dangerous Dancing, and Founder of the DUCK!

Warren Cuccurullo Current Lead Guitarist of Duran Duran, with more changes in his hairstyle than Dennis Rodman.

Roger Taylor One of Duran Duran's first long-standing Percussionists, Making his Grand Re-appearance after an extended absence.

Jenica Stevens Recently contracted Graphic Artist for Duran Duran, and current romantic interest of John Taylor.

Kristen Tyler Secret Agent who happened into the Band's life, and suite, out of fateful coincidence.

Svetlana Duran Duran's Constant companion, a 16 year-old girl the band encountered after a concert. They took her into their care, and have been her surrogate family ever since.

Marcus Joseph Mechanic and Technician Extraordinaire, who met John Taylor by chance, and been good friends since, also a friend of Kristen Tyler.

Talon Arch-nemesis of Kristen Tyler in the Criminal Underground, and Information Addict.

Michael Vernier Criminal Playboy, working with Talon to re-build the Criminal Network known as Stiletto, and to bring down Kristen Tyler.

Rio Medical Assistant hired by Vernier to oversee his Prisoners. her alliance seems uncertain.

The Chauffeur A mysterious debonair from the UK's backstreets, sent to accquire the members of Duran Duran.

Daz An Intergalactic Street Rat, who has unknowingly arrived into the company of Duran Duran.

Yasmin LeBon Model, and Wife of Simon LeBon

Julian Taylor John Taylor's unknown twin brother

Stella James Part-Time Concierge of the Cambridge Arms Hotel

Andy Taylor Original Official Lead Guitarist of Duran Duran

Tiger Nick Rhode's little-known bodyguard, recentlyreturning to the limelight.

Michael A former employee of Marcus's Bahamut Enterprises, Michael has crossed the border from Legal to Illegal over the death of Marcus's sister, Tricia, led to believe that Marcus, not Kyrian, was responsible for her death.

Porsche Friend and Compatriot of Kristen, Porsche was called into service to assist Kristen in thwarting Stilletto's latest endeavours.

Kyrian Original head of Stilletto, Kyrian has managed to escape, to seek Vengeance on Kristen who imprisoned her, and secure Stilletto's place in the world.

Amanda DeCadenet and Atlanta Taylor John Taylor's erstwhile Ex-wife, and his Always Adorable daughter, proof od Truth over Adversity, who have recently resurfaced into the forefront.

Click Here to read up on the current happenings of the Duran RPG.
View the Duran Duran RPG FanBook
Sign the Duran Duran RPG FanBook
© 1997 E-mail me! I Double-Duranie-Dare ya!
Back to the Castle
This Duranie Site has been Experienced





times since its Creation.